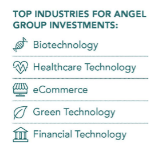 NVESTORS often ask what are the due diligence components that are unique and important to consider when looking at an investment in health. These components may be regulatory, reimbursement, business models, and intellectual property to name a few. To better address this education need, check out our upcoming workshops and past workshop recordings . Interested in taking the next step in investment education and participation by joining a group of accredited interesting investors
STARTUP FOUNDERS benefit from applications to our program. We help put the structure in achieving the necessary components to be ready for investor due diligence. Investors expect companies to make week-over-week progress on preparing their companies for investment through dialogue, analysis of the financials/business models etc.December 1 Apis Health Angels Registration DeadlineApis Company Registration. Apis Health Angels and Seattle Angel Conference are excited to contribute.
Angels play a key role in funding early health and life sciences startups, particularly where non-diluted grant funds do not allow payment for business development. Apis Health Angels is a mini MBA in health investing and company due diligence. Investors can learn to ask the right questions and not accept at face value company responses. Please contact crossnichol@165.232.155.104 to learn more.
‍